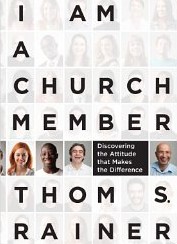 I Am a Church Member by Rainer is a quick, easy read that will inspire you to keep a positive outlook on church membership.  Rainer begins the book with a story of two church members who have become friends.  As they meet for coffee weekly on Monday mornings, their friendship deepens.  At one of their meetings, one shares with the other his discontentment with their church.  He is becoming increasingly discouraged by the inconsistencies of the people of the church.  He doesn't understand how his friend is still joyfully serving.
Rainer springboards from this story to give six pledges that every church member should commit to.  The pledges mark the chapter divisions.  He encourages the reader to focus on what he can give to his church instead of what he can receive.  He argues against having a "country club" mentality, thinking that church membership is a pay and receive type relationship.
I Am a Church Member refreshed my spirit as I read it.  Churches would benefit from giving one to their entire membership and successively each new member.  Its simple yet Biblical approach, if embraced, would spark change in the overall atmosphere of any church.
Disclosure of Material Connection: Some of the links in the post above are "affiliate links." This means if you click on the link and purchase the item, I will receive an affiliate commission. Regardless, I only recommend products or services I use personally and believe will add value to my readers. I am disclosing this in accordance with the Federal Trade Commission's 16 CFR, Part 255: "Guides Concerning the Use of Endorsements and Testimonials in Advertising."