Silent Wonder is a simple, yet profound choral anthem that will lead your musicians and congregation in a prayer for God to teach them "Silent Wonder."
Silent Wonder is about recapturing the wonder of the nativity scene.  Christ, the God of heaven, became a babe, and yet we are not silent enough to be awed by His coming.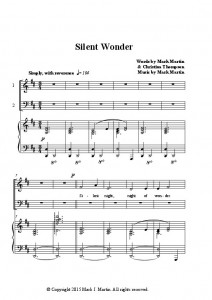 The text paints a portrait of the nativity scene, then reminds us that this baby will one day pay for our sins.  "Gentle Babe with head now resting, hands there by His side, One day by thorns and rough nails piercing will pay for all my pride."
The chorus is a prayer for God to reveal to us the "Silent Wonder" of Christ's birth.
Accessible for any choir. Medium Easy. (sheet music preview below)
SATB (digital download)
Instrumental parts (available upon request): Flute, Clarinet, Horn, Trombone/Baritone, Strings Reduction.  $40