I have some friends who recently went through a deep trial as their son underwent treatment for stage 3 high-risk neuroblastoma.  By God's grace, Braden overcame the cancer, yet there has resulted from the treatments some hearing loss,  specifically in the higher registers.  Braden's aunt, Julie Jones Potter, recorded a Christmas CD entitled Tidings of Comfort and Joy to help raise funds for the necessary hearing aids Braden will get.
The CD is beautifully done, and you will enjoy playing it during the holiday season (I know that no one who reads this ever plays Christmas music before Thanksgiving. Ha! However, it's never to early to buy a Christmas CD.)
For your convenience, I have posted it here on my site.  Many have already purchased a CD directly from Julie, and thank you to those who have.  If you haven't, you may do so at the bottom of this post.
All the proceeds through December will go to Braden.
Here's what Julie posted to facebook:
Dan and I are excited to share with you my new piano Christmas CD entitled "Tidings of Comfort and Joy" lovingly dedicated to the Roberts family. All proceeds this fall will be going to the hearing aid/medical fund of my nephew Braden Roberts. He has moderate to severe hearing loss in high frequency tones due to the chemotherapy he received during cancer treatments. CD's are $15 each and includes shipping/handling. Local friends, we would be happy to deliver. Merry Christmas!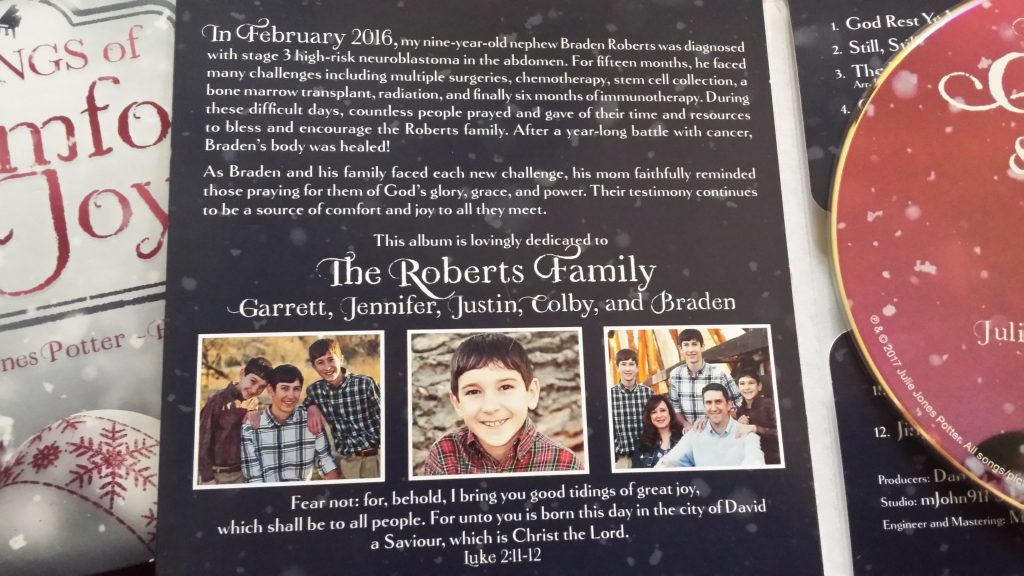 Simply order below, and it will ship to you.  All the proceeds will go toward Braden's hearing aid / medical fund.
Help me be a help to this family.  Thanks in advance.
This is NOT  a digital download.  It is a physical copy of the CD.  CD will ship from Julie Potter. Shipping included.